Newrooms was founded by Jamie Anderson in 2003 combining his family traditions of carpentry and building. Then by adding his own flair and passion for art and design. Over the years Jamie has utilized his technical knowledge to build relationships with a select group of suppliers. Thus allowing the company to produce exclusive and beautiful designs. The company has grown and matured but still kept its family ethos at heart. Always giving each customer the reassurance that whenever they need any help or support, the newrooms team is never more than a call away.
So we asked Jamie what will the trends be next year (as everyone is trying to forget 2020) for the modern kitchen.
There was a time when people wanted to go back to the old country kitchen but we haven't seen that n a while. I still think the trend for clean lines is the new modern look. Ideally, they like to have light flooding into the kitchen area. It will also remain a dual purpose area. I think the kitchen will be more important in 2021 especially as COVID 19 meant that 2020 was mostly spent social distancing. People will be wanting to embrace their friendships and regained freedom and what better place to do that than the kitchen.
Cooking for people has always been synonymous with showing love as well, so it is the perfect setting to forget about social distancing. This kitchen design in Norwich we were able to open out to the garden, but then we introduced even more light.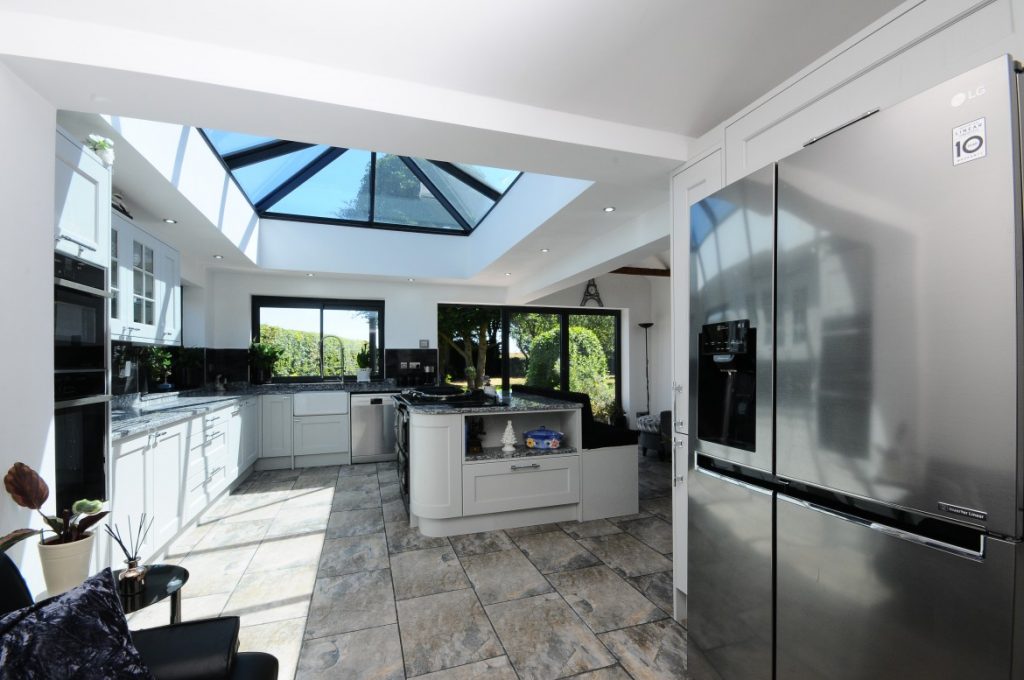 Kitchen stori wakefield shaker
So we have a patio door to the garden, but they wanted more so we had to think a little differently. The answer was to go up to let in the natural light in as well to make this kitchen absolutely stunning. This is what they had to say about the kitchen design.
The most important thing newrooms did – listened to what we wanted in our kitchen. From there, it was just an absolute pleasure to work with them.
The results were just fantastic. Still getting compliments.
The kitchen itself, design, and layout.
In this fabulous airy kitchen with light grey painted cabinetry, Kitchen Stori's Wakefield Shaker range of doors provides a perfect balance between traditional and contemporary. The central curved island with an AGA range cooker in Pewter and bespoke seating and shelving area is flooded with natural light from a vaulted skylight.
Plenty of contrast is provided by a stunning quartz worktop in Thunderstorm and Neff appliances in Black Glass and Stainless Steel.
A slate tiled floor, glazed wall units, and large hexagonal bar handles continue the balance between contemporary and classic. The perfect space for cooking, entertaining and relaxing.
Second nature remo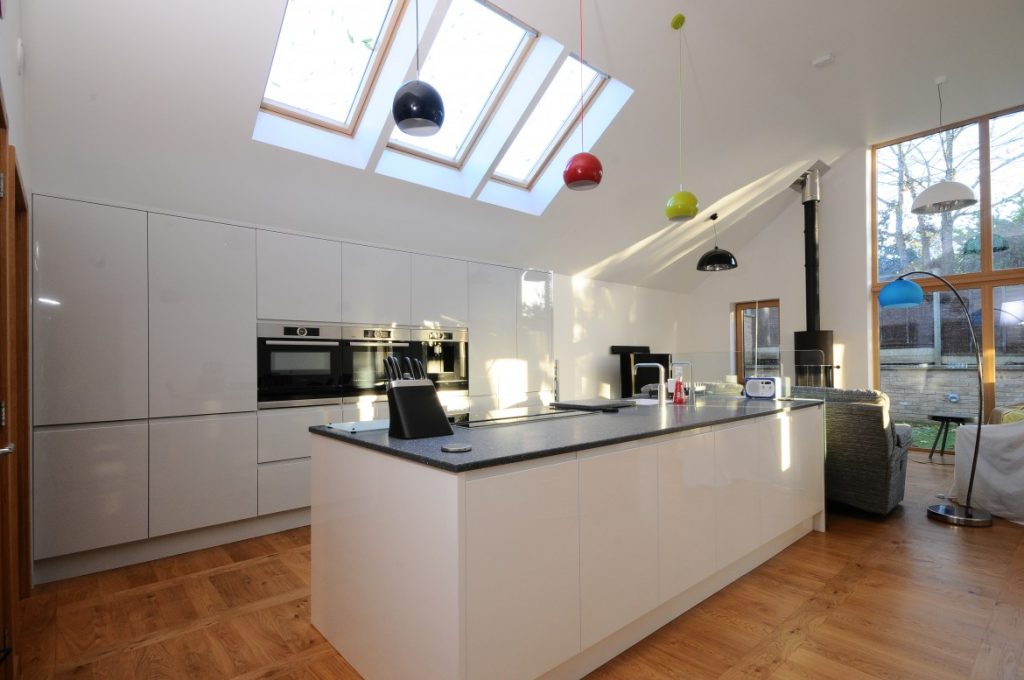 This is another one of our proud moments, they wanted it as a dual space for cooking and entertaining as well. However, having 2 kids under the age of 5 they wanted to be able to prepare dinner and still keep an eye on the kids. That's why they also wanted clean lines in the kitchen, a place for everything and everything put away. It's a stark contrast as you look over the kitchen counter because the floor is usually covered in kid's toys.
The design and layout of the kitchen
The stylish monochrome grey design with integrated handles using Second Nature Remo gloss in dove grey and white gives a perfect contemporary and uncluttered look.
Stylish Bosch appliances and an acrylic worktop in Mistral Zircona complement the sleek look along with a state-of-the-art Quooker boiling water tap and Bosch Coffee Centre.
The statement island creates a natural divide between the kitchen and living zone and provides a sociable area for preparation and eating.
Ample hidden storage makes the most of the space with a Blum Space Tower, deep-pan drawers, and a Kessebohmer LeMans corner system. Kitchen Design Cambridge
Features
Second Nature Remo gloss doors in Dove Grey

Feature Island in Second Nature Remo gloss doors in White

Quooker PRO3 Twintaps Nordic Square Mixer

Bosch Serie 8 Compact Oven with Microwave in Brushed Steel

Bosch Serie 8 Warming drawer in Brushed Steel

Bosch Serie 8 Single Pyrolytic Oven in Brushed Steel

Bosch Serie 8 Compact Coffee Centre oven in Brushed Steel

Bosch Serie 6 Dishwasher in Stainless Steel

Bosch Serie 6 Fridge No Frost Freezer in Black
Bosch Serie 8 Induction Hob in Black Glass

Neff Downdraft Extractor in Brushed Steel

Mistral Worktop in Zircona

Blum Space Tower larder unit

Kessebohmer LeMans Corner Unit

Acrylic Sink

Deep Pan Drawers
Second nature porter
The next thing I think we are going to see in 2021 is more statement kitchens, this is where you take a bold color and really make a statement with it. Of course, this isn't for everyone but it does have a wow factor and there is no ignoring it. This is the brief the client gave us and we went with.
Family life revolves around food and the client wanted their kitchen not just to be capable of producing restaurant-worthy meals but to make a practical social space for entertaining and family gatherings.
Curved doors soften the streamlined contemporary design.
The neutral tones of the white gloss kitchen doors are paired with bold colors to create a focal point that naturally draws the eye in. Space is maximized with lots of pan drawers and wall larder units and the colorful bar stools make a splash of color in a multipurpose space for the family to enjoy.
The only limitation to kitchen design is your imagination and if you are lacking a little we have our in house designers here to get your dreams down on paper (well digital nowadays). We can always bring new life to a kitchen which in turn changes your life and how you use that new kitchen. I Jamie from newrooms and I hope you enjoyed the little insight into the upcoming trends for kitchens 2021.